Wide­spread loot­ing in Chica­go caught on video after police-involved shooting
Hun­dreds of peo­ple were seen loot­ing stores such as Nord­strom, Wal­greens and Macy's
Chica­go Police Super­in­ten­dent David Brown said as of Mon­day morn­ing, respond­ing units have arrest­ed more than 100 peo­ple so far on charges rang­ing from dis­or­der­ly con­duct to bat­tery against police. He added that 13 offi­cers were hurt in the unrest, includ­ing a sergeant struck in the face with a bot­tle and an offi­cer who had his nose bro­ken while scuf­fling with a group of looters.
"This was not an orga­nized protest. Rather, this was an inci­dent of pure crim­i­nal­i­ty," Brown told reporters. "This was an act of vio­lence against our police offi­cers and against our city."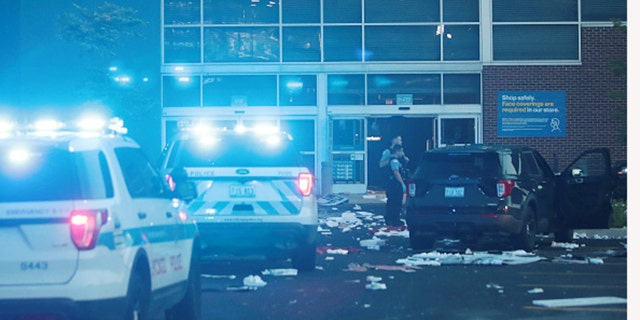 Police offi­cers inspect a dam­aged Best Buy store in Chica­go after parts of the city suf­fered wide­spread loot­ing and van­dal­ism. (Get­ty Images)
Brown also said a secu­ri­ty guard and a civil­ian are now in crit­i­cal con­di­tion at a local hos­pi­tal after being hit with gun­fire dur­ing the loot­ing overnight, and he said that five guns in total have been recovered.
"I, for one, refuse to allow these cow­ard­ly acts to hold our city hostage," Brown said. "CPD will not stand by as our beau­ti­ful down­town becomes some place that peo­ple fear."
Brown says he has now ordered detec­tives to comb over high-def­i­n­i­tion footage of sus­pects and vehi­cles from the loot­ing scenes, sug­gest­ing that more arrests are coming.
"I pledge to pur­sue these offend­ers to the fullest extent of the law," he added. "A heavy police pres­ence will con­tin­ue through­out the down­town area today and until fur­ther notice."
Social media users post­ed videos of hun­dreds of peo­ple loot­ing stores such as Nord­strom, Wal­greens, Macy's, Coach, Guc­ci and Louis Vuit­ton. Some even exchanged gun­fire with police at one point, although no offi­cers were injured in that incident.
"Absolute chaos in down­town Chica­go with more overnight loot­ing and van­dal­ism in the Loop," tweet­ed Ryan Bak­er, an anchor for WBBM-TV. "Appears to be coor­di­nat­ed effort with min­i­mal police presence."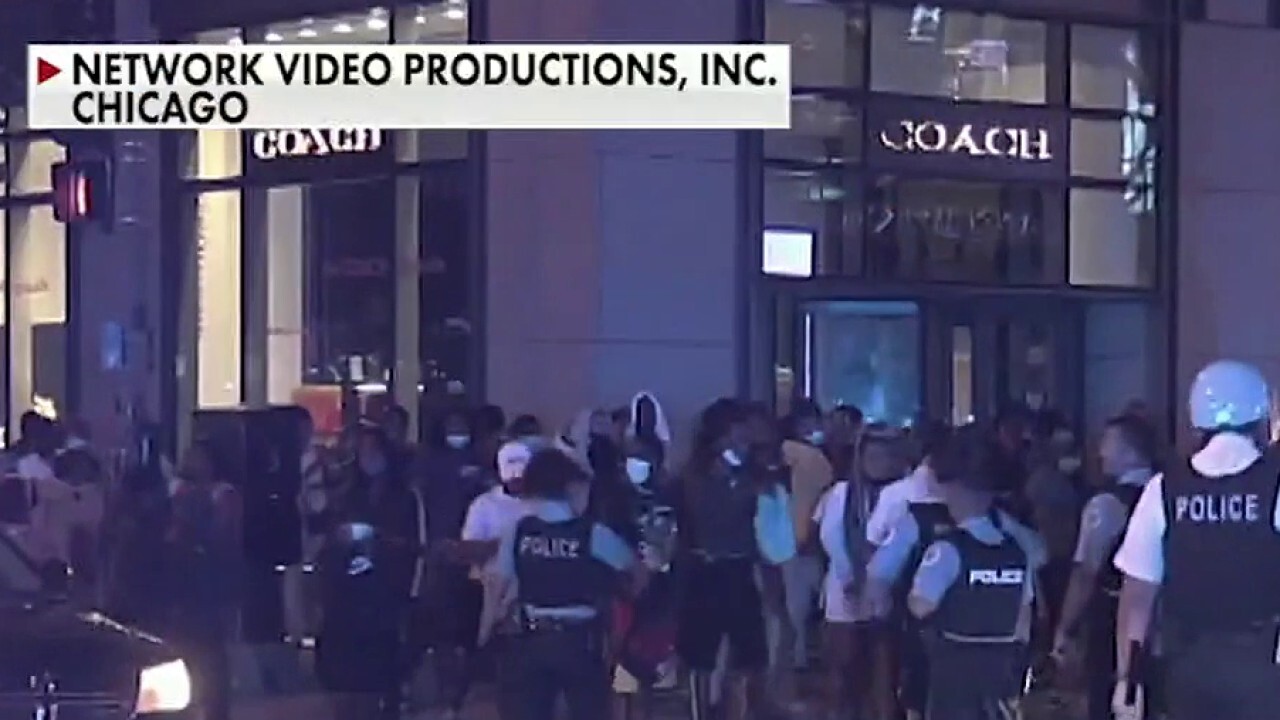 Read the whole arti­cle https://​www​.foxnews​.com/​u​s​/​w​i​d​e​s​p​r​e​a​d​-​l​o​o​t​i​n​g​-​r​e​p​o​r​t​e​d​-​i​n​-​c​h​i​c​a​g​o​-​a​f​t​e​r​-​p​o​l​i​c​e​-​i​n​v​o​l​v​e​d​-​s​h​o​o​t​ing
The Asso­ci­at­ed Press and FOX Busi­ness' Evie Ford­ham con­tributed to this report.
Source:foxnews.com