Péter Mag­yar: The Hun­gar­i­an stu­dent loan mod­el is the only one of its kind
The Diákhi­tel Plusz (Stu­dent Loan Plus) loan, intro­duced last year in response to the pan­dem­ic cri­sis, is avail­able again this year since Octo­ber 1st; it has proven itself the most pop­u­lar type of loan. Mag­yar Nemzet spoke to Péter Mag­yar, the direc­tor of the Diákhi­tel Központ (Stu­dent Loan Cen­ter) and dis­cussed the recent­ly intro­duced loans for adults and voca­tion­al train­ing, the Hun­gar­i­an youth, and the domes­tic and inter­na­tion­al stu­dent loan systems.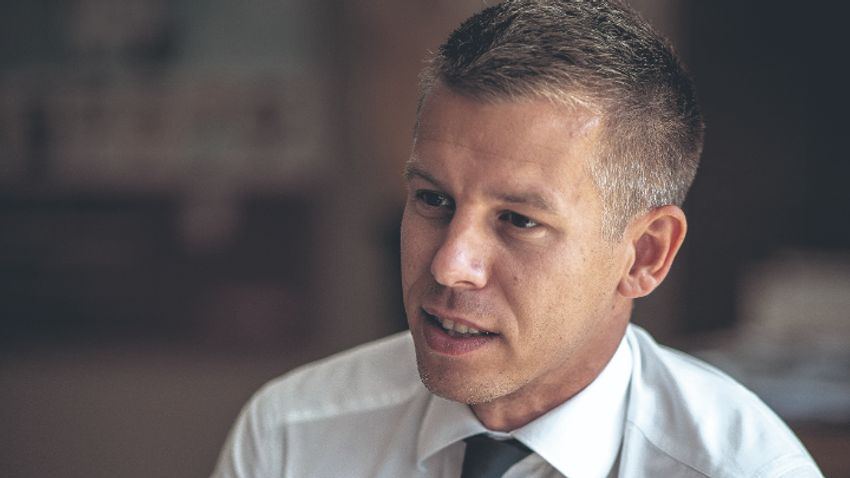 What has the past year been like; how many peo­ple request­ed emer­gency support?
The Diákhi­tel Plusz (Stu­dent Loan Plus) was intro­duced in May of last year by the Hun­gar­i­an gov­ern­ment in response to the labor mar­ket and finan­cial chal­lenges caused by the pan­dem­ic. Many stu­dents end­ed up in tough finan­cial sit­u­a­tions as the first thing to go at the big com­pa­nies was stu­dent jobs and intern­ships. It soon became clear that this type of loan was an effec­tive mea­sure by the gov­ern­ment when in the first weeks of its intro­duc­tion thou­sands of peo­ple applied; last year, 30,000 peo­ple applied for this loan. Orig­i­nal­ly the dead­line was Decem­ber 31, but fol­low­ing the sug­ges­tion of the Diákhi­tel Központ, the gov­ern­ment extend­ed this to June 30, 2021. This was anoth­er smart deci­sion as in this six months, more than 10,000 stu­dents applied for the loans. The Diákhi­tel Plusz loan has been the most suc­cess­ful stu­dent loan. Based on the pos­i­tive feed­back and the rec­om­men­da­tion of stu­dent orga­ni­za­tions and the Diákhi­tel Központ, the gov­ern­ment decid­ed to make this loan avail­able again from Octo­ber 1.
What makes the Diákhi­tel Plusz loan dif­fer­ent from oth­er stu­dent loans?
The best part is that it includes all the most favor­able fea­tures of the oth­er stu­dent loan mod­els. The Diákhi­tel Plusz loan is an inter­est-free loan that can be spent on any­thing, worth up to half a mil­lion HUF. It is impor­tant to note that the Diákhi­tel Plusz loan is a so-called annu­ity loan which means that the stu­dent can decide what repay­ment peri­od to choose: between one and five years, all after a one-year grace peri­od. Even though only a month has passed since Octo­ber, we have received over 5,000 appli­ca­tions. The Diákhi­tel Plusz loan will be avail­able until Sep­tem­ber 30, 2022. Of course, the stan­dard stu­dent loans will also be avail­able. Based on the rep­re­sen­ta­tive sur­veys, in the 20 years of our Diákhi­tel Központ's exis­tence, half of all stu­dents say that either they would not have been able to com­plete their stud­ies with­out a loan, or it would have caused enor­mous dif­fi­cul­ties; thus, these two loans are very use­ful as well on their own. For many, stu­dent loans are not just tem­po­rary sup­port, but a resource for start­ing a busi­ness or for cre­at­ing the prop­er work­ing conditions.
It seems that this can help lay the foun­da­tions for the future.
About 50 per­cent of appli­cants spend the loan on hous­ing, 25 per­cent on text­books, IT equip­ment or lan­guage learn­ing, and the last 25 per­cent on oth­er var­i­ous liv­ing expens­es. Some have their future in mind and invest it in a start­up busi­ness like buy­ing a bike and start­ing a couri­er com­pa­ny. Using loans for these pur­pos­es in my view, is per­fect­ly accept­able and serves the aims of the gov­ern­ment too.
It is com­mon­ly asked: can one apply for the Diákhi­tel Plusz loan as well as oth­er fam­i­ly sup­port benefits?
Just as you can have mul­ti­ple stu­dent loans (many stu­dents use all three of our stu­dent loan mod­els: Diákhitel1, Diákhitel2, Diákhi­tel Plusz), you can also have fam­i­ly sup­port ben­e­fits along with stu­dent loans. It was the government's goal for the stu­dent loan plans to fit into the fam­i­ly finan­cial sup­port sys­tem and to pro­mote hav­ing chil­dren. This is also why the stu­dent loan for­give­ness was intro­duced for moth­ers in 2018. We have observed that the Hun­gar­i­an mod­el is effec­tive in this field as more and more peo­ple take on stu­dent loans while the fer­til­i­ty of young grad­u­ates increas­es. This nat­u­ral­ly is not sole­ly due to stu­dent loan for­give­ness, but it helps.
What does this mean in numbers?
Almost 7,000 moth­ers have had 50 to 100 per­cent of their stu­dent loans for­giv­en after the birth of their sec­ond or third child – worth about six bil­lion forints in all. And the Diákhi­tel Központ is not mere­ly for­giv­ing about one to two mil­lion forints on aver­age. Pic­ture a med­ical stu­dent who finances their stud­ies from a Diákhitel2 type of loan because they are pay­ing for their edu­ca­tion – that can be a val­ue of even 14 mil­lion forints. If we for­give 50 per­cent of this after the sec­ond child, that is sev­en mil­lion saved, and after the third child, that is 14 mil­lion forints forgiven.
Although the Diákhitel1 and 2 stu­dent loan mod­els are quite well known, as well as the Diákhi­tel Plusz loan, new types of loans will be avail­able this year from the Diákhi­tel Központ.
It has been a long time com­ing for Hun­gar­i­an edu­ca­tion pol­i­tics to sup­port those choos­ing to pur­sue voca­tion­al train­ing; the pos­si­bil­i­ties that have been avail­able for those study­ing in high­er edu­ca­tion for a while will be made avail­able to both trade stu­dents and adult stu­dents. With the Képzési Hitel1 and 2 (Train­ing Loan), the Diákhi­tel Központ has stepped into the voca­tion­al train­ing and adult stud­ies sphere which is com­plete­ly dif­fer­ent from high­er edu­ca­tion. A com­pre­hen­sive edu­ca­tion financ­ing mod­el has been imple­ment­ed in Hun­gary which is quite unique com­pared to the rest of Europe. Of course, the fam­i­ly tax cred­its also apply to the Képzési Hitel1 and 2 loans. The Képzési Hitel1 loan can be used freely; for a sin­gle semes­ter it can be worth up to 900,000 forints and – sim­i­lar­ly to the Diákhitel1 loan – it has an inter­est rate of 1.99 per­cent. The Képzési Hitel2 loan is also inter­est free like the Diákhitel2 loan and can be max­i­mum 500,000 forints to finance the cost of trainings.
What do you expect from the from the loans for voca­tion­al trainings?
We expect a lot from these two types of loans. Now we are tru­ly sup­port­ing life-long learn­ing. For instance, these loans are espe­cial­ly use­ful for those who may not have start­ed their stud­ies ear­li­er for finan­cial rea­sons or they could not leave their work­place at the time or there was no avail­able edu­ca­tion in their area – now those peo­ple have finan­cial sup­port. Now, they can leave their work­place for six months to even a year while sup­port­ing their fam­i­ly; peo­ple can enter a com­plete­ly new career and become a pro­gram­mer, accoun­tant, masseuse, or what­ev­er they would like among the adult edu­ca­tion pro­grams. Both loans will be avail­able from May 31st and we see that this will be very pop­u­lar as 100 to 200 peo­ple are request­ing it daily.
Is it pos­si­ble that young peo­ple are afraid of get­ting trapped in debt after their uni­ver­si­ty years?
As the inter­est rates on these loans are either far below the mar­ket rates or nonex­is­tent, and they can be paid back at any time free of charge, it is not pos­si­ble for some­one to get stuck in stu­dent loan debt. Stu­dents are also aware that tak­ing into account the record low unem­ploy­ment and the dynam­ic rise of wages over the past years, talk­ing about stu­dent loans as a debt is not a reflec­tion of real­i­ty. More­over, a young grad­u­ate earns twice as much on aver­age as some­one with only a sec­ondary edu­ca­tion. Earn­ing a degree is an enor­mous invest­ment on the part of the indi­vid­ual, the fam­i­ly and the state; dur­ing their stud­ies, a stu­dent must focus on their edu­ca­tion and it is worth invest­ing this. Young peo­ple are able to repay their stu­dent loans more quick­ly and eas­i­ly than before; a few years ago, this took about ten years, now only six. The num­ber of young unem­ployed has nev­er been this low, wages have nev­er increased this dynam­i­cal­ly. In the last five years, the aver­age gross wage has increased by an aver­age of ten per­cent per year – with these cir­cum­stances it is not dif­fi­cult to repay stu­dent loans. So, in con­trast to the nar­ra­tive that the num­ber of stu­dent loan appli­ca­tions is ris­ing because young peo­ple are in dif­fi­cult finan­cial sit­u­a­tions – instead the truth is that they see their future as secure and pre­dictable and are there­fore hap­py to invest in a mar­ketable, com­pet­i­tive education.
The Diákhi­tel Központ is 20 years old this year – do you think these stu­dent loans have helped stu­dents in their education?
Since the estab­lish­ment of the Diákhi­tel Központ, more than 500 thou­sand stu­dents have applied for our loans. I myself – one of the first clients of the Diákhi­tel Központ –was able to study law in Ger­many in 2001 thanks to my stu­dent loan. There was a boom in the ear­ly 2000s, when stu­dent loans were still a nov­el­ty and the major­i­ty of fam­i­lies were in need of addi­tion­al finan­cial sup­port, name­ly from 2002 to 2010. This was when stu­dent loan inter­est rates were high­est. Since 2010 how­ev­er inter­est rates have been steadi­ly declin­ing, reach­ing a cur­rent low of 1.99 percent.
Is there a com­pa­ra­ble exam­ple of our stu­dent loan mod­el some­where abroad, or can we state that Hun­gary is at the fore­front of sup­port­ing the stud­ies of young people?
We can proud­ly say that the Hun­gar­i­an mod­el is com­plete­ly unique. The first Orbán gov­ern­ment estab­lished the Hun­gar­i­an stu­dent loans sys­tem in 2001; the cre­ator of the British stu­dent loans was there as a con­tribut­ing expert and recent­ly said that there is no oth­er stu­dent loan sys­tem in the world as effec­tive as the Hun­gar­i­an one. The Unit­ed States is always cit­ed as a hor­rif­ic exam­ple as the high­er edu­ca­tion is incred­i­bly expen­sive, stu­dents take out huge loans from for-prof­it insti­tu­tions with vary­ing con­di­tions and high inter­est rates. If a stu­dent does not end up mak­ing as much as expect­ed, then the whole fam­i­ly can go bank­rupt by their debt. But there are sev­er­al coun­tries in Europe as well where for-prof­it insti­tu­tions or pub­lic banks pro­vide stu­dent loans with much less favor­able terms. In Slo­va­kia for exam­ple, stu­dents get loans in euros with much high­er inter­est rates than Hungary's forint loans. The V4 coun­tries, along with Croa­t­ia and sev­er­al oth­er Mem­ber States are inter­est­ed in the Hun­gar­i­an sys­tem because we pro­vide favor­able terms for the entire spec­trum of stud­ies. A sys­tem like this, that is coin­cides with fam­i­ly ben­e­fits and works so well, can­not be found any­where else.
As the head of the stu­dent loan cen­ter, what do you think of the prospects of young peo­ple? What are the most impor­tant aspects you keep in mind in your work?
The way I see it, it has nev­er been bet­ter to be young in Hun­gary, if not the Euro­pean Union, because these days you can study what­ev­er you would like to. Nev­er before has there been this many and such a vol­ume of schol­ar­ships avail­able for stu­dents in Hun­gary. Nev­er before has such a broad and favor­able stu­dent loan sys­tem sup­port­ed the Hun­gar­i­an youth's fur­ther edu­ca­tion. Nev­er before have young peo­ple been able to access so many fam­i­ly and tax ben­e­fits to help them get a job, find a home, and start a fam­i­ly. Also, remem­ber that the Diákhitel1 loan can be used towards study­ing abroad at schools with­in the Euro­pean Eco­nom­ic Area. Sim­i­lar­ly, Hun­gar­i­ans from out­side our bor­ders in the Carpathi­an Basin, and Hun­gar­i­ans with dual cit­i­zen­ship can also apply for these stu­dent loans and the Diákhitel1 loan. The goal is even if the youth goes abroad to study, work, that they return to start a fam­i­ly. Based on the sta­tis­tics, the return home has begun; high­er salaries, bet­ter con­di­tions, and fam­i­ly sup­port moti­vate young peo­ple to come back. I lived abroad for nine years, I raised my chil­dren there, and learned use­ful things with my wife – but it was good to come home, work here and be close to friends and fam­i­ly. It is prac­ti­cal and use­ful for young peo­ple to gain expe­ri­ence abroad and then bring this home to launch their careers. I will be pleased if the Diákhi­tel Központ can con­tribute to this trend, and I hope that this can con­tin­ue into 2022.
Pho­to: Péter Mag­yar, CEO of the Stu­dent Loan Cen­ter (Világgaz­daság / Móricz-Sab­ján Simon)
Source: mag​yarnemzet​.hu