North Dako­ta gov­er­nor signs bill ban­ning CRT in schools
The bill aims to 'ensure' that all cur­ricu­lum remains 'fac­tu­al'
The gov­er­nor of North Dako­ta signed a bill Fri­day ban­ning crit­i­cal race the­o­ry (CRT) in schools, mak­ing North Dako­ta the lat­est Repub­li­can-con­trolled state to take leg­isla­tive action against CRT in pub­lic education.
"This bill address­es the con­cerns of par­ents while pre­serv­ing the deci­sion-mak­ing author­i­ty of local school boards to approve cur­ricu­lum that is fac­tu­al, objec­tive and aligned with state con­tent stan­dards," Gov. Doug Bur­gum told Fox News in a state­ment. He signed the bill Friday.
KX News first report­ed that the bill cleared the Sen­ate. It passed the Sen­ate 38 – 9, accord­ing to the state leg­is­la­ture's web­site. The bill cleared the state House 76 – 16 on Thursday.
The anti-CRT bill was swift­ly intro­duced and approved dur­ing a spe­cial ses­sion that was called to address redis­trict­ing and the spend­ing of coro­n­avirus stim­u­lus money.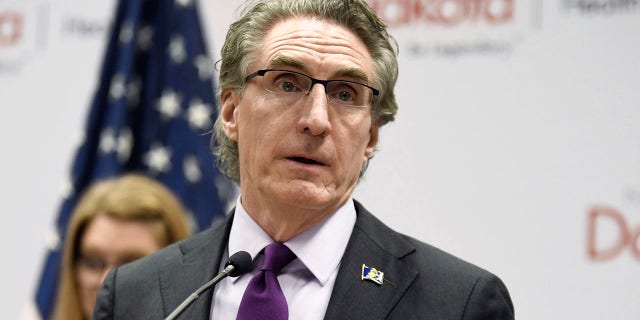 In this April 10, 2020, file pho­to, North Dako­ta Gov. Doug Bur­gum speaks at the state Capi­tol in Bis­mar­ck, N.D. He has the chance to either sign or veto a bill ban­ning crit­i­cal race the­o­ry in North Dako­ta's pub­lic schools after it passed the state Sen­ate Fri­day. (Mike McCleary/The Bis­mar­ck Tri­bune via AP, File)
"This bill is about crit­i­cal race the­o­ry, and it's most­ly about pre­vent­ing it from being taught in our state," Repub­li­can state Sen. Don­ald Schaible said Friday.
"It's a polit­i­cal ide­ol­o­gy … It is an ide­ol­o­gy that if we can indoc­tri­nate it into our chil­dren young it would have a polit­i­cal con­se­quence on our chil­dren lat­er," Repub­li­can state Sen. Janne Myrdal, who intro­duced the bill in the Sen­ate, said. "We're not talk­ing about teach­ing his­to­ry and racism, I deplore racism as I think every­body in this body does … We need to teach true his­to­ry, and we need to teach all of it."
The one-page bill says that pub­lic schools and dis­tricts "shall ensure instruc­tion on its cur­ricu­lum is fac­tu­al" and "may not include instruc­tion relat­ing to crit­i­cal race the­o­ry." It gives the state school super­in­ten­dent the author­i­ty to cre­ate rules to enforce the CRT ban.
The bill defines crit­i­cal race the­o­ry as "the the­o­ry that racism is not mere­ly the prod­uct of learned indi­vid­ual bias or prej­u­dice, but that racism is sys­tem­at­i­cal­ly embed­ded in Amer­i­can soci­ety and the Amer­i­can legal sys­tem to facil­i­tate racial inequality."
The Amer­i­can Civ­il Lib­er­ties Union (ACLU) of North Dako­ta argues the bill is about cen­sor­ship in the classroom.
The bill "is a direct affront to the con­sti­tu­tion­al rights of teach­ers and stu­dents across North Dako­ta by restrict­ing con­ver­sa­tions around race in our schools," ACLU North Dako­ta cam­paigns direc­tor Lib­by Skarin said. "This bill is intend­ed to inflame a polit­i­cal reac­tion, not fur­ther a legit­i­mate edu­ca­tion­al interest."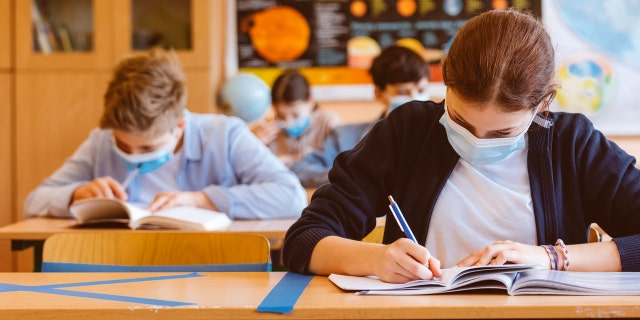 A stock pho­to of stu­dents in a class­room. The North Dako­ta Sen­ate Fri­day passed a bill to ban crit­i­cal race the­o­ry in schools. The office of Gov. Doug Bur­gum did not return mul­ti­ple requests for com­ment from Fox News about whether he will sign it.
North Dako­ta is far from the first state to address crit­i­cal race the­o­ry in leg­is­la­tion. Accord­ing to the Brook­ings Insti­tu­tion, eight states had passed bills relat­ing to CRT as of August this year.
Crit­i­cal race the­o­ry has become a major divi­sive fac­tor in Amer­i­can pol­i­tics. A Fox News vot­er analy­sis of the Vir­ginia gov­er­nor's race last week showed that one-quar­ter of vot­ers cit­ed the CRT debate as the sin­gle most impor­tant fac­tor on their minds when they cast their votes. Among those vot­ers, 71% vot­ed for Repub­li­can Glenn Youngkin, who won the election.
Source: foxnews​.com