"Minor­i­ty des­tinies threat­en the major­i­ty as well"
Accord­ing to Lás­zló Kövér, the fate of minori­ties does not only threat­en Euro­pean nation­al minori­ties today, but Euro­pean majori­ties as well. The Speak­er of the Nation­al Assem­bly spoke, fol­low­ing an ecu­meni­cal ser­vice, in the Reformed Fortress Church in Tar­gu Mures (Marosvásarhe­ly) on Sun­day as the main patron of the Vásárhe­ly Bustling Cul­tur­al Festival.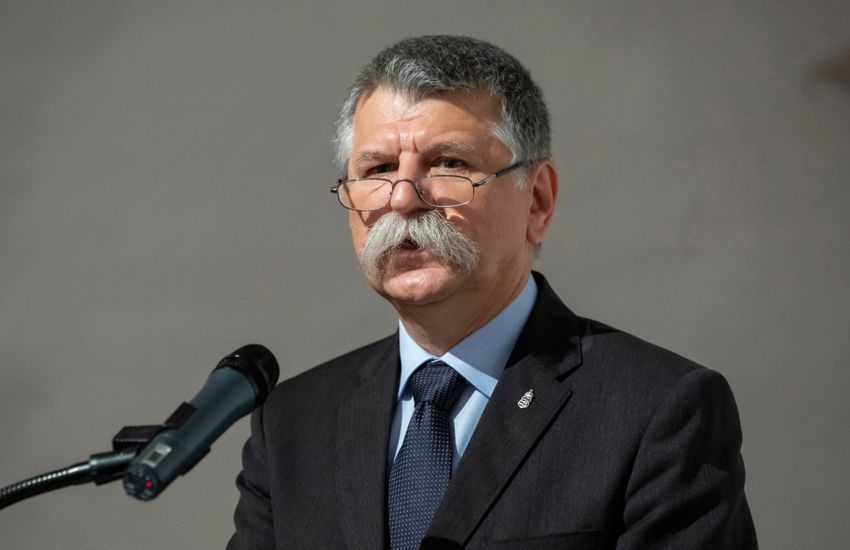 The politi­cian said: in the world and in Europe
Cer­tain abysses are form­ing that are capa­ble of drag­ging down coun­tries and nations, that are capa­ble of destroy­ing the fates of sub­se­quent gen­er­a­tions, that threat­en to cre­ate a future with­out human dignity.
He added: Hun­gar­i­ans, as a minor­i­ty, know the fate of polit­i­cal sub­ju­ga­tion, eco­nom­ic plun­der, and nation­al humil­i­a­tion. Kövér believes that anoth­er rea­son Europe must address the issue of nation­al minori­ties is because the fate of a minor­i­ty could even­tu­al­ly threat­en any Euro­pean state – even if that coun­try may be pop­u­lat­ed by an over­whelm­ing nation­al major­i­ty. He spoke of the Hun­gar­i­ans out­side Hungary's bor­ders who have been fight­ing for over a cen­tu­ry to pre­serve the homes they have estab­lished in their birth­places and to ensure that their eth­nic pro­por­tions and rep­re­sen­ta­tion should not be arti­fi­cial­ly altered. How­ev­er, accord­ing to him, Europe's majori­ties are now hav­ing to face these prob­lems as well.
Today, the indige­nous cit­i­zens of big cities in West­ern Europe are being deprived of their sense of home in their birth­places and alien­at­ed from their own Euro­pean home­land by ille­gal migra­tion and reset­tle­ment, cun­ning­ly dis­guised as refugees.
– said the politician.
Lás­zló Kövér believes that we are on the precipice of a "post-Chris­t­ian" and "post-nation" era deter­mined by arti­fi­cial guilt.
All Euro­peans should feel guilty for cli­mate change, peo­ple today should feel guilty for their pre­de­ces­sors, those prepar­ing to have chil­dren should feel guilty for their fetus­es, whites should feel guilty about blacks, men should feel guilty about women, het­ero­sex­u­als should feel guilty about homo­sex­u­als, the elder­ly should feel guilty about young peo­ple, and Euro­peans should feel guilty about the inhab­i­tants of the rest of the world. –
he sum­ma­rized.
Accord­ing to him, this new, emerg­ing cul­ture of guilt only dif­fers from the Nazi and Com­mu­nist ide­olo­gies in that it does not mark a sin­gle minor­i­ty as infe­ri­or and col­lec­tive­ly guilty, but rather turns every­one against everyone.
We want a cul­ture of respon­si­ble self-aware­ness instead of a destruc­tive cul­ture of guilt, and we want to pre­serve our nat­ur­al iden­ti­ties instead of the inden­tity­less­ness cre­at­ed by arti­fi­cial divi­sions. We want to remain Chris­t­ian Hun­gar­i­ans who love their fam­i­lies and homeland
– declared the politi­cian Lás­zló Kövér believes that Tar­gu Mures has a spir­i­tu­al strength with the abil­i­ty to inno­vate far beyond its bor­ders because the city believes in the ideals of Hun­gar­i­an qual­i­ty, Tran­syl­van­ian coop­er­a­tion, and Euro­pean dig­ni­ty, set­ting an exam­ple for Hun­gar­i­ans, Roma­ni­ans, and Euro­peans alike. The par­tic­i­pants of the 1937 Tar­gu Mures Meet­ing, orga­nized under the lead­er­ship of Áron Tamási, sent a mes­sage to Bucharest:
the Roman­ian state can only ful­fill its voca­tion if it pro­tects and sup­ports all the peo­ples liv­ing with­in its struc­ture with equal care in the spir­it of Chris­t­ian eth­i­cal require­ments and true democracy.
Budapest was remind­ed that "the Hun­gar­i­ans of Cen­tral Europe form the only lin­guis­tic and cul­tur­al com­mu­ni­ty of which the Hun­gar­i­ans in Roma­nia are an inte­gral part of." These mes­sages are still valid today as was the meeting's con­clu­sion that "the life of a Hun­gar­i­an minor­i­ty in Tran­syl­va­nia can only be gov­erned by Chris­t­ian moral and demo­c­ra­t­ic nation­al requisites."
After the clos­ing ser­vice of the Vásárhe­lyi Fes­ti­val, Fer­enc Péter, the Pres­i­dent of the Mures Coun­ty Coun­cil also spoke. He remind­ed that Tar­gu Mures had received the right to orga­nize a mar­ket from King Matthias and Gábor Bethlen declared it a free roy­al city. He believes that the orga­niz­ers of the Vásárhe­lyi Fes­ti­val are dri­ven by goals sim­i­lar to those of the great state­ment. In Tar­gu Mures the events of the fes­ti­val end­ed with a con­cert by Kowal­sky és a Vega on Sun­day evening.
Source: MTI