Lebanon PM and entire gov­ern­ment resigns after dead­ly blast
Demon­stra­tors had demand­ed polit­i­cal change after a huge explo­sion in Beirut killed more than 160 peo­ple last week.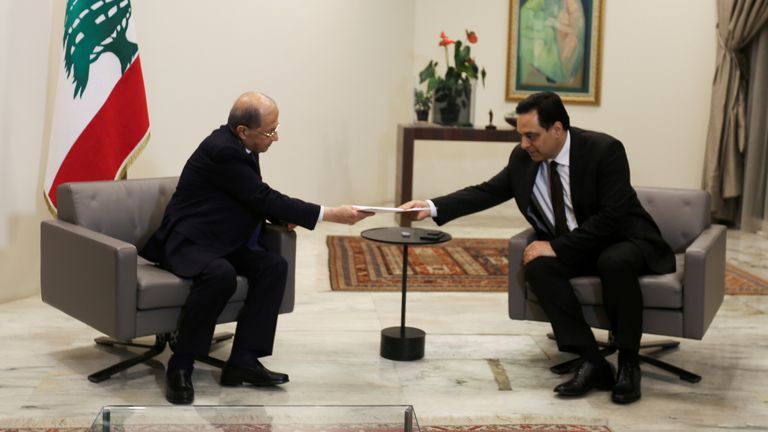 Lebanon's Prime Min­is­ter Has­san Diab and the coun­try's entire gov­ern­ment have resigned after the dead­ly Beirut blast that killed at least 160 people.
In a brief tele­vised speech, Mr Diab said he is tak­ing "a step back" so he can stand with the peo­ple "and fight the bat­tle for change along­side them".Sponsored link
He said: "I declare today the res­ig­na­tion of this gov­ern­ment. May God pro­tect Lebanon."
He repeat­ed the last phrase three times.
Mr Diab also said "we are with the peo­ple in call­ing for try­ing those respon­si­ble for this crime" as he spoke on Mon­day evening.
Demon­stra­tors had demand­ed polit­i­cal change after an explo­sion in Beirut killed more than 160 peo­ple and injured around 6,000 last week.
Lebanon's health min­is­ter Hamad Has­san had ear­li­er con­firmed the gov­ern­ment had resigned when he spoke to reporters after a cab­i­net meet­ing on Monday.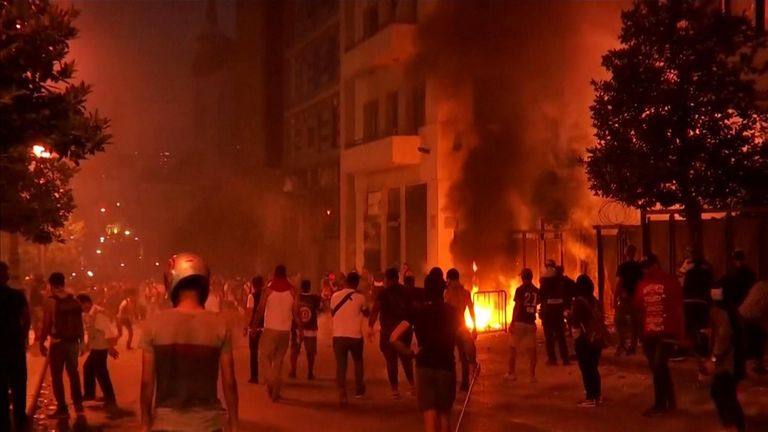 The cab­i­net has been under increas­ing pres­sure after sev­er­al min­is­ters quit or expressed their inten­tion to step down in recent days.
Mr Hamad said: "The whole gov­ern­ment resigned."
Mr Dia­b's cab­i­net now assumes a care­tak­er role until a new gov­ern­ment is formed.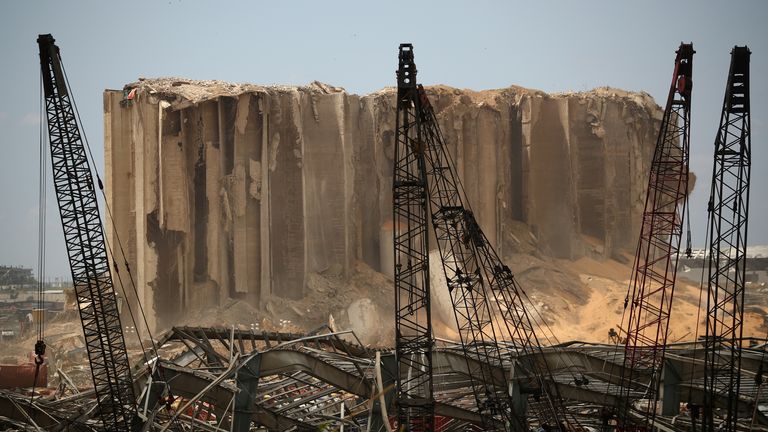 Protests had been planned for out­side the gov­ern­ment head­quar­ters to coin­cide with the cab­i­net meeting.
Jus­tice min­is­ter Marie Claude Najm quit ear­li­er on Mon­day, accord­ing to the state-run Nation­al News Agency, cit­ing the con­duct of the gov­ern­ment in the after­math of last week's blast.
A Lebanese judge today start­ed ques­tion­ing head of state secu­ri­ty Major Gen­er­al Tony Sal­i­ba over the explo­sion, the news agency added.
It gave no fur­ther details but oth­er gen­er­als are said to be sched­uled to be questioned.
It is believed the explo­sion was caused by 2,750 tonnes of ammo­ni­um nitrate — used as a fer­tilis­er and in explo­sives — which was left in a ware­house for six years.
State secu­ri­ty had com­piled a report about the dan­gers of stor­ing the mate­r­i­al at the port and sent a copy to the offices of the pres­i­dent and prime min­is­ter on 20 July.
An inves­ti­ga­tion is focused on how the ammo­ni­um nitrate came to be stored at the port and why noth­ing was done about it.
About 20 peo­ple have been detained over the blast, includ­ing the head of Lebanon's cus­toms depart­ment and his pre­de­ces­sor, as well as the head of the port.
Dozens of peo­ple have been ques­tioned, includ­ing two for­mer cab­i­net min­is­ters, accord­ing to gov­ern­ment officials.
Pub­lic out­rage has grown since the dead­ly blast, which destroyed much of the city — reduc­ing build­ings to rub­ble and leav­ing near­ly 300,000 peo­ple home­less in the imme­di­ate aftermath.
Loss­es from the explo­sion are esti­mat­ed to be between £8bn to £12bn.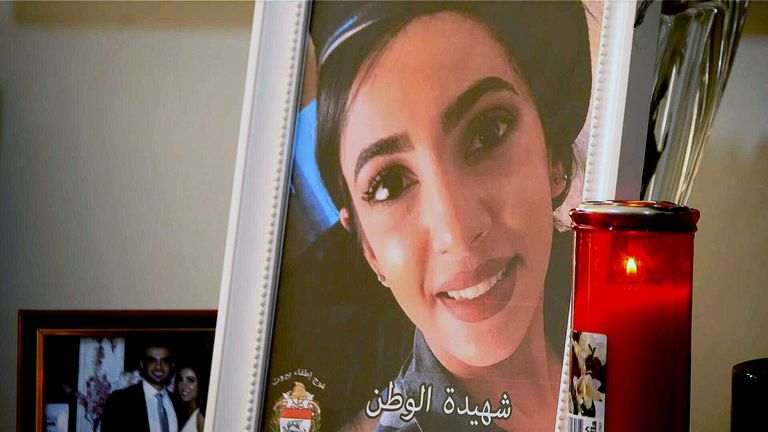 Demon­stra­tors have blamed the dis­as­ter square­ly on cor­rup­tion and neglect from the coun­try's long-entrenched rul­ing class, which had already been over­see­ing a peri­od of eco­nom­ic cri­sis pri­or to the blast.
Pro­test­ers clashed with secu­ri­ty forces over the week­end, who fired tear gas at demonstrators.
Ms Najm, who was sprayed with water and ver­bal­ly attacked last week while vis­it­ing a dam­aged area, was the third min­is­ter to resign before it emerged the gov­ern­ment had stepped down.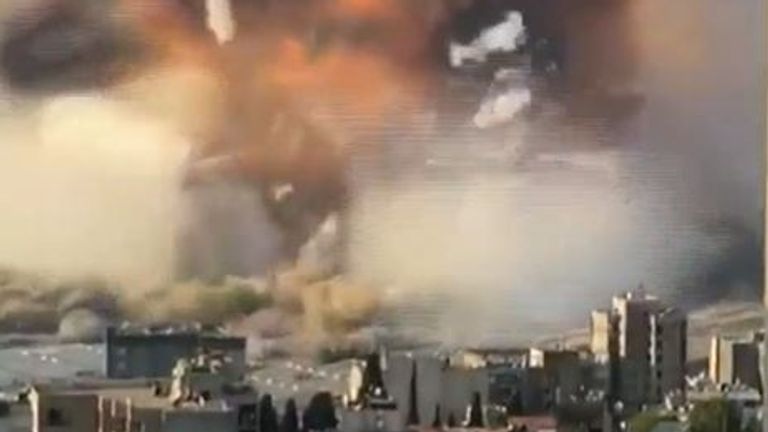 Analy­sis: This res­ig­na­tion comes at a dan­ger­ous moment
By Zein Ja'­far, Mid­dle East news edi­tor, in Beirut
The gov­ern­men­t's res­ig­na­tion has been on the cards since even before the hor­rif­ic explo­sion at the Beirut port that killed at least 160 peo­ple and injured thousands.
It is expect­ed Prime Min­is­ter Has­san Diab will stay on in a care­tak­er role until a new can­di­date is agreed upon.
But for the hun­dreds of thou­sands of peo­ple whose homes and lives were destroyed by last week's explo­sion at a hangar con­tain­ing 2,750 tonnes of ammo­ni­um nitrate, this won't do much to ease their grief and anger.
For many across Lebanon, the entire polit­i­cal sys­tem needs to be replaced.
They say it's not spe­cif­ic gov­ern­ments past or present, but the entire estab­lish­ment in Lebanon that is to blame for crum­bling infra­struc­ture, wide­spread cor­rup­tion and a sec­tar­i­an­ism that has sti­fled progress and blocked real reform.
Even though French Pres­i­dent Emmanuel Macron's vis­it to Beirut last week was hailed by some in the cap­i­tal as a suc­cess, many are sus­pi­cious of for­eign influ­ence and wor­ry the region­al, and inter­na­tion­al, back­ers of var­i­ous polit­i­cal par­ties will block any real change.
Lebanon faces dif­fi­cult times ahead.
The coun­try is already in its worst eco­nom­ic cri­sis that has seen mil­lions of jobs lost, peo­ple have their salaries cut and sav­ings disappear.
The polit­i­cal process to appoint a new prime min­is­ter and calls for ear­ly elec­tions will take weeks to con­clude and time is not some­thing that most peo­ple in this coun­try can afford right now. This is a dan­ger­ous moment for the nation.
Source: news​.sky​.com