Asbury Chris­t­ian Revival Becomes Explo­sive Inter-Denom­i­na­tion­al Phenomenon
The mas­sive Chris­t­ian revival tak­ing place at Kentucky's Asbury Uni­ver­si­ty has spilled over into many Chris­t­ian denom­i­na­tions, draw­ing faith­ful from main­line Protes­tant church­es, bible-based groups, and Catholics.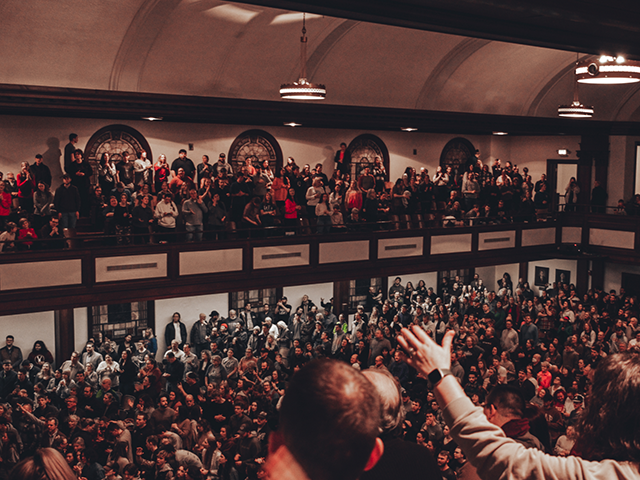 When an ordi­nary prayer ser­vice was held at this small Chris­t­ian col­lege on Feb­ru­ary 8, no one dreamed it would bal­loon into the immense ecu­meni­cal phe­nom­e­non it has now become.
The "Asbury Revival," as it has been dubbed, devel­oped into a viral phe­nom­e­non on social media, spurring Chris­tians from far and wide to make the trek and join in the worship.
Stu­dents have streamed into town from Pur­due Uni­ver­si­ty, Indi­ana Wes­leyan Uni­ver­si­ty, Ohio Chris­t­ian Uni­ver­si­ty, Tran­syl­va­nia Uni­ver­si­ty, Lee Uni­ver­si­ty, George­town Col­lege, and count­less oth­ers, but vis­i­tors have also come from far­ther still, places like Hawaii, Mex­i­co, New Zealand, and Indonesia.
The mag­net­ic draw has not only tran­scend­ed geo­graph­i­cal bound­aries, how­ev­er, but tra­di­tion­al con­fes­sion­al lim­its as well.
Father Nor­man Fis­ch­er, chap­lain at local Lex­ing­ton Catholic High School called the ongo­ing awak­en­ing a "well­spring."
"You just know right away that God is there," Father Fis­ch­er said.
Father Fis­ch­er said he trav­eled to Asbury on Feb­ru­ary 12 and saw a num­ber of cur­rent and for­mer Lex­ing­ton Catholic High School stu­dents among the worshipers.
"Hands were raised, peo­ple were singing, and all were in one accord," Father Fis­ch­er said, cit­ing Psalm 133, "how good and pleas­ant it is when broth­ers dwell togeth­er as one."
Father Fis­ch­er said he found him­self "filled with love" dur­ing the expe­ri­ence and "got into praise mode."
The Asbury phe­nom­e­non is "pure" and "def­i­nite­ly of God, def­i­nite­ly of the Holy Spir­it," the priest said.
"Since the first day, there have been count­less expres­sions and demon­stra­tions of rad­i­cal humil­i­ty, com­pas­sion, con­fes­sion, con­se­cra­tion, and sur­ren­der unto the Lord," said Asbury Uni­ver­si­ty pres­i­dent Kevin J. Brown in a state­ment post­ed on the school's website.
"We are wit­ness­ing the fruit of the Spir­it: love, joy, peace, patience, kind­ness, gen­eros­i­ty, faith­ful­ness, gen­tle­ness and self-con­trol," Brown added.
Anoth­er Catholic, Katie Reynolds of Pax Christi Catholic Church in Lex­ing­ton, has already been to the Asbury gath­er­ing three times, togeth­er with her four chil­dren, who range in age from 6 to 18 years.
"Every seat was full, and it was stand­ing-room only," Reynolds said of her impres­sion dur­ing the first vis­it. "You could feel the Holy Spir­it in the building."
Reynolds' 13-year-old son, Dylan, said he thought it was real­ly pow­er­ful and "so cool" to see every­one prais­ing God, adding that he loved see­ing "how Jesus and God came into their lives to help them."
Dylan's 6‑year-old sis­ter, Lucy, said the singing made her feel as if "Jesus was right next to me."
Asbury is hold­ing its final pub­lic wor­ship ser­vice on Mon­day, bring­ing an end to two weeks of non­stop praise and fel­low­ship. As of Feb­ru­ary 21, the col­lege will offer night­time ser­vices only to col­lege and high school stu­dents, which will run through Thurs­day, after which ser­vices will move to loca­tions off the the uni­ver­si­ty campus.
"Our town's insti­tu­tions here and our town's infra­struc­ture, I just want to be clear, is just not in a place to absorb at this moment, the influx of the blessed guests that we have had come to Wilmore,"
Brown explained.
"We just do not have the infra­struc­ture to sup­port the guests that we're hav­ing come to Wilmore."
Source: bre​it​bart​.com